Addie McKenzie, MSN, CPNP-PC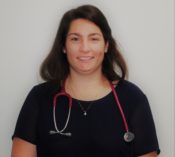 Addie received her degree in biology from Providence College. After taking a year off to gain some experience in the emergency room at Lawrence General Hospital, she decided to further her education and become a Nurse Practitioner. She then specialized in Pediatrics and received both her Bachelor's Degree and Master's Degree in Nursing from Regis College in Weston, MA. Addie fell in love with Maine after spending numerous summers exploring its' coastline. She aspired to work in Vacationland and now her dream has become a reality. Addie enjoys the outdoors and skis whenever she can. She is looking forward to exploring the slopes and snow covered mountains of Maine for years to come!
Board Certification: National Certification of Pediatric Nurse Practitioners
Undergraduate Education: Bachelor's of Science in Nursing, Regis College
Medical School: Master of Science in Nursing, Pediatric Nurse Practitioner
Accepting New Patients! Call 784-5782 to schedule an appointment today!