Immunize your child with the flu vaccine
Pediatricians and healthcare professionals recommend that all children ages 6 months and older receive the inactivated flu vaccine this season!
Here is a link that easily explains these American Academy of Pediatrics recommendations.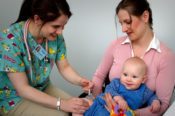 Call our office at (207) 784-5782 to schedule your appointment today!