Guide for Car Safety Seats
Each year hundreds of young children are killed in car crashes and thousands more are injured seriously enough to go to the emergency room. Using car safety seats and seat belts correctly is the best way to prevent this from happening to your child. This information explains how.
Which car safety seat is the best?
No one seat is the "best" or "safest." The "best" seat is the one that fits your child's size, is correctly installed, and is used properly every time you drive. When shopping for a car safety seat, keep the following in mind:
•Price doesn't always matter. Higher prices can mean added features that may or may not make the seat easier to use.
•When you find a seat you like, try it out. Put your child in it and adjust the harnesses and buckles. Make sure it fits in your car. Follow the instructions that came with the car safety seat.
•Keep in mind that pictures or displays of car safety seats in stores may not show them being used the right way.
Important safety rules
•Always use a car safety seat, starting with your baby's first ride home from the hospital.
•Never place a child in a rear-facing car safety seat in the front seat of a vehicle that has an airbag.
•The safest place for all children to ride is in the back seat.
•Set a good example-always wear your seat belt. Help your child form a lifelong habit of buckling up.
•Remember that each car safety seat is different. Read and keep the instructions that came with your seat.
•Read the owner's manual that came with your car on how to correctly install car safety seats.
Rear-facing seats
All infants should ride rear-facing until they have reached at least 2 years of age or until they reach the maximum height and weight for their seat. There are 2 types of rear-facing seats: infant-only seats and convertible seats. Following are some important features of both: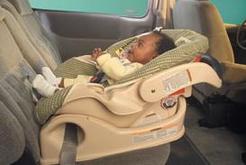 Infant-only seats
•Small and portable (sometimes come as part of a stroller system).
•Have a 3-point or 5-point harness.
•Can only be used for infants up to 20 to 22 pounds, depending on the model.
•Many come with a detachable base, which can be left in the car. The seat clicks in and out of the base, which means you don't have to install it each time you use it.
•Most have carrying handles.
Convertible seats
•Bigger than infant-only seats.
•Can also be used forward-facing for older and larger children, therefore these seats can be used longer.
•Many have higher rear-facing weight limits than infant only seats. These are ideal for bigger babies.
•They have the following types of harnesses: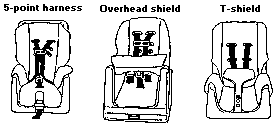 – 5-point harness – 5 straps: 2 at the shoulders, 2 at the hips,
    1 at the crotch
  – T-shield – A padded t-shaped or triangle-shaped shield
    attached to the shoulder straps
  – Overhead shield – A padded tray-like shield that swings down around the child
Other features to look for in rear-facing seats
•Harness slots. Look for seats that come with more than one set of harness slots to give your growing baby more room. The harness should be in the slots at or below your baby's shoulders. Check the manufacturer's instructions to be sure.
•Adjustable buckles and shields. Many rear-facing seats have 2 or more buckle positions for growing babies. Many overhead shields can be adjusted as well.
•Other features. Angle indicators, built-in angle adjusters that help you get the proper recline, and head support systems are other features that are made to help you install the seat the right way.
Forward-facing seats
Once your child is at least 2 years of age or has reached the maximum height and weight for their seat, he or she can ride forward-facing. It is recommended that he or she ride rear-facing until for as long as possible.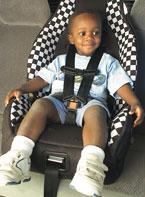 There are many types of seats that can be used forward-facing, including convertible seats, forward-facing only seats, and combination forward-facing/booster seats.
As mentioned, convertible seats can be used forward-facing. However, if you have used your convertible seat rear-facing, you need to make 3 adjustments before using it forward-facing.
1. Move the shoulder straps to the slots that are at or above your child's shoulders. On many convertible seats, the top harness slots must be used when the seat is in the forward-facing position. Check the instructions to be sure.
2. Move the seat from the reclined to the upright position if required by the manufacturer of the seat.
3. Make sure the seat belt runs through the forward- facing belt path.
Built-in forward-facing or booster seats are available in some cars and vans. Weight and height limits vary. Check with your vehicle manufacturer for details about how these seats are used.
Booster seats
Your child should stay in a car safety seat with a harness as long as possible and then ride in a belt-positioning booster seat. You can tell when your child is ready for a booster seat when one of the following is true:
•She reaches the top weight or height allowed for her seat.
•Her shoulders are above the harness slots.
•Her ears have reached the top of the seat.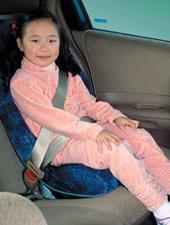 Booster seats are designed to raise your child so that the lap/shoulder belt fits properly. This means the lap belt lies low across your child's thighs and the shoulder belt crosses the middle of your child's chest and shoulder. Correct belt fit helps protect the stomach, spine, and head from injury. Both high-backed and backless models are available. Booster seats should be used until your child can correctly fit in a lap/shoulder seat belt (see "Seat belts" below).
Some car safety seats combine the features of a forward-facing seat and a booster. These seats come with harness straps for children who weigh up to 40 to 50 pounds (depending on the model). Once your child reaches the weight and height limits, you can use the seat as a booster by removing the harnesses and using your vehicle's lap/shoulder belts. Keep in mind that when using the harness straps, the seat can be secured with a lap/ shoulder belt or a lap-only belt. However, once you remove the harness, you must use a lap/shoulder belt.
Seat belts
Remember, seat belts are made for adults. If the seat belt does not fit your child correctly, he should stay in a booster seat until the adult seat belt fits. This is usually when the child reaches about 4′ 9″ in height and is between 8 to 12 years of age.
Other points to keep in mind when using seat belts include the following:
•Never tuck the shoulder belt under the child's arm or behind the back.
•If there's only a lap belt, make sure it's snug and low on the child's thighs, not across the stomach. Try to get a lap/shoulder belt installed in your car by a dealer.
Installing a car safety seat
There are 2 main things to remember when installing a car safety seat.
1. Your child must be buckled snugly into the seat.
2. The seat must be buckled as tightly as possible into your vehicle.
Ask yourself the following questions to make sure both are done correctly. If you are not sure, check the instructions that came with your car safety seat.
Car safety seats and shopping carts
Many infant-only car safety seats lock into shopping carts, and many stores have shopping carts with built-in infant seats. This may seem safe, but your baby could tip over or fall out of the cart. Thousands of children are hurt every year from falling from shopping carts or from the carts tipping over. Instead of placing your baby's car safety seat on the cart, consider using a stroller, backpack, or front pack while shopping with your baby.
Don't leave your child unattended in a car safety seat
Children should never be left alone in a car whether they are in their car safety seats or not. Any of the following can happen when a child is left alone in a vehicle:
· Temperatures can reach deadly levels in minutes, and the child can die of heat stroke.
· He/She can be strangled by power windows, sunroofs, or accessories.
· He/She can be taken during a car theft or kidnapped from the vehicle.
· He/She can knock the vehicle into gear, setting it in motion.
Don't leave your baby unattended in a car safety seat outside of the vehicle either. When your baby falls asleep in his car safety seat, it can be tempting to bring him inside and leave him alone in the seat, but this can be unsafe. Your baby can fall out of the carrier, or the carrier can fall over. And remember that placing the car safety seat on a shopping cart is unsafe too. The best place for your baby to sleep is on his back in a safe crib.