The Pediatricians of Pediatric Associates provide in-hospital support for new mothers and in-hospital care for our patients at both St. Mary's Regional Medical Center and Central Maine Medical Center.
Newborn Care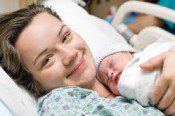 We are always excited and honored to be a part of your child's birth. When asked to provide newborn care at Central Maine Medical Center, you can be rest assured that our pediatricians will monitor your baby's health and provide a comprehensive medical exam before you go home. If you do not deliver your child at this hospital, we will be happy to see your baby in our office after discharge. We like to see all babies when they are a week old. If you have any questions or concerns about your newborn (many parents do!), please do not hesitate to call us at (207) 784-5782. Please click on our New Patients page for more information about practice requirements and New Patient paperwork.
Inpatient Hospital Care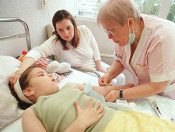 Our pediatricians work as a team to provide 24 hour/7 day week pediatric hospital coverage at Central Maine Medical Center. Each day, one of our pediatricians is available to provide hospital services. When at the hospital, our pediatricians spend the majority of their time coordinating patient care for hospitalized infants, children, and adolescents that require treatment for a wide range of acute conditions. If you're child requires an inpatient stay at this hospital, Pediatric Associates will be directly involved in their care.