When is a referral necessary?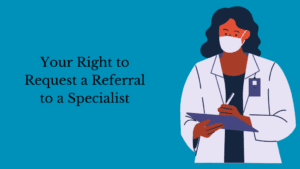 During your visit, a provider may feel a consult with an outside specialist is in the best interest of your child's medical needs. Before starting the referral process, providers will discuss their plans and the treatment options available. After discussing the matter with you, our providers will have their support staff contact you and your insurance company to coordinate the recommended treatment services with the outside specialist(s).
Ongoing Referrals
If your child requires a referral for an already established specialist, please call our office at (207) 784-5782 during our regular office hours and a patient care representative will be happy to assist you. Please have the following information available so that he or she can process your child's referral in a timely and efficient manner:
Name of Specialist
Date of appointment
Diagnosis
Specialist's Phone Number
Specialist's Fax Number
The name of your child's insurance
If you have any further questions about referrals or specialists, please call us at (207) 784-5782 during regular office hours!